A campus in a lively city
The University of Mons, abbreviated to "UMONS", is a French-speaking university in the province of Hainaut, Belgium, near the French-Belgian border. UMONS was created in 2009 following a merger between the University of Mons-Hainaut, founded in 1965, and the Faculty of Engineering of Mons, the university's oldest faculty, founded in 1837.
UMONS is in the heart of Mons, a city with a fantastic architectural heritage. The medieval streets invite you to leisurely stroll and the cafés of the Grand Place are particularly inviting in summer. Mons, the third largest conurbation in Wallonia, has some 100,000 inhabitants. The city is the sixth largest commercial center in Belgium, the third largest in Wallonia, and possesses 5 heritage sites recognized by UNESCO. In 2015, Mons was elected European Capital of Culture. Since that, the city is living a revival, which is increasingly releasing the natural dynamism and creativity of its people.
For the past 40 years, there has also been a UMONS campus in Charleroi, a city of 200,000 people where the Brussels South Charleroi Airport is located.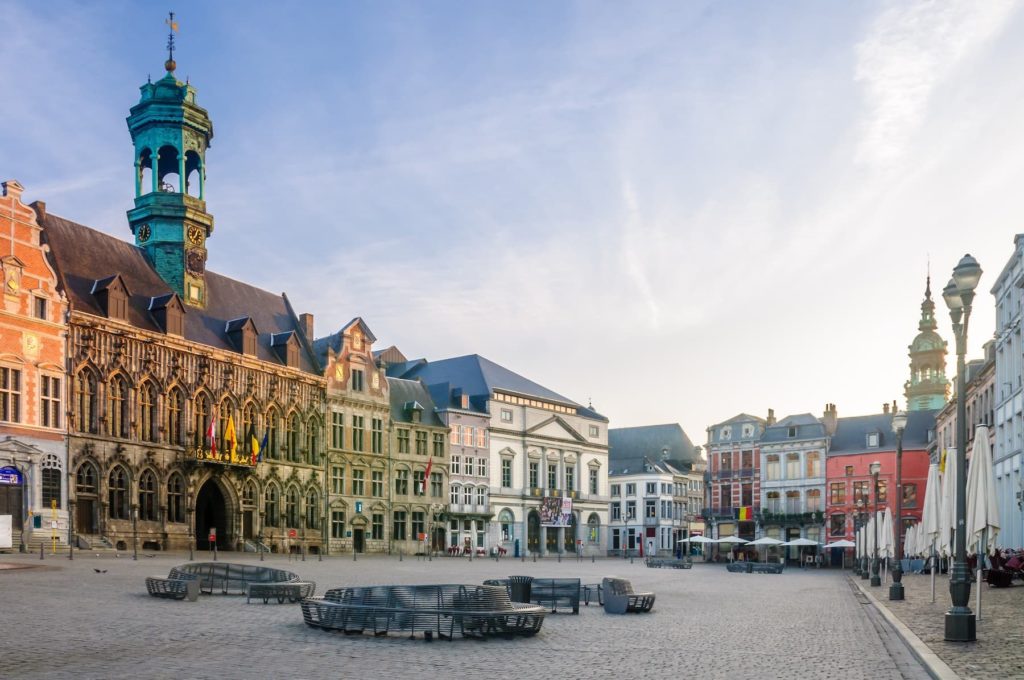 UMONS has around 150 different degree programs on offer to its 11,000 students at Bachelor, Master and PhD level in fields as diverse as Law, Psychology, Social Sciences, Biomedical Science, Economics, Electrical Engineering, Management, Materials Science, Mechanical Engineering, Urban Planning, Information Technology, Architecture, Interpretation, Linguistics, Physics, Speech Therapy, Mathematics, Chemistry, Pharmacy, Translation, Education, Biology, Geology, Medicine, and many more.
Fostering the regional development and open to the world
One of UMONS' main commitments is to develop internationally recognised research and to make its scientific knowledge available to other organisations within the region. This is done through organising quality education and fostering the region's socio-economic development.
UMONS also encourages its students and researchers to participate in mobility programmes, for which it has around 300 scientific and university partnerships with institutions from 50 countries around the world.
Internationally, UMONS is one of the ten European Universities integrated in the European University Alliance EUNICE representing about 160,000 students. Last September, its Rector was elected President of EUNICE University aisbl.
Research @UMONS
Research at UMONS is carried out by more than 1000 researchers (incl. 500+ PhD students) in some 100 departments within 10 research institutes.
Each institute brings together the skills of experienced researchers, post-docs and PhD students from several UMONS faculties. They concentrate their efforts on combining themes covering the three main fields of research, namely life sciences and health, science and technology, and human and social sciences, all of which respond to proven societal needs
The strength of the UMONS Research Institutes lies in the multidisciplinary nature of their teams and the flexibility of their organisation. At the same time, UMONS recently launched the label "UMONS Innovation Center" which highlights the close collaboration with its associated research centres, such as Materia Nova, Multitel, BCRC, C3E2D –  Centre d'Excellence en Efficacité Energétique et Développement Durable and the CLICK.

Thanks to the quality and excellence of its research, UMONS is recognized at the national and international level. The growing number of publications in peer-reviewed scientific journals and citations in international scientific publications have earned it a place among the top universities in international rankings.
For example, the U-Multirank ranking of the European Union lists UMONS in the top 100 worldwide for scientific publications in international partnerships. In the QS World University Ranking, UMONS is in the top 150 for the number of international citations. Since 2008, UMONS has been included in the famous Shanghai University Ranking; in fields such as materials science and engineering, chemistry and physics, UMONS appears among the best Belgian universities. Finally, since 2022, UMONS has also been listed in the famous Times Higher Education World University Rankings, where it achieves remarkable results in terms of its international orientation.